Brand Castle, LLC bakes up Holiday cheer
August 11, 2014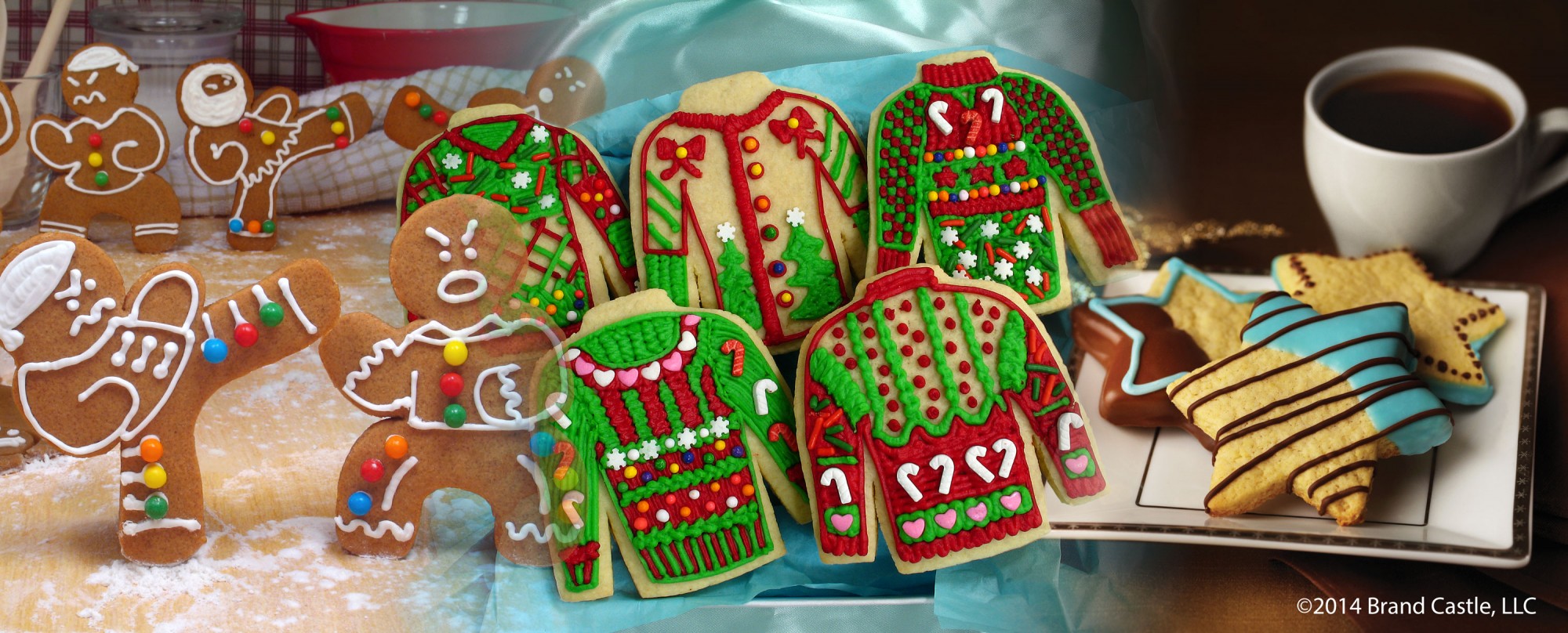 The holidays are all about family as relatives travel from near and far to spend time together and honor the customs they have celebrated for many years. Not every family will decorate trees, light the menorah, and give and receive presents; however, almost everyone marks the holiday time with special and traditional, dishes and desserts. Brand Castle, manufacturer of interactive baking kits, offers families additional entertainment and fun when preparing holiday treats this year with In The Mix® Ninjabread Cookie Kit, In The Mix® Ugly Sweater Cookie Kit and In The Mix® Star of David Dipped Sugar Cookie Kit.
Brand Castle's In The Mix® Ninjabread Cookie Kit makes food that's fun and art that's edible. Gather your family around the kitchen and create fighting Ninjabread Cookies that are just as fun to make as they are to eat. Best of all, the special memories will last long after the tasty warriors are gone! Directions are easy and the kit includes gingerbread cookie mix, royal icing mix, candy beads, a piping bag and 4 plastic ninja cookie cutters. The kit makes 12-16 Ninjabread cookies.
Your annual ugly sweater party gets kicked up a notch when you serve In The Mix® Ugly Sweater Cookies! Hosts are sure to impress their guests when they show off their fresh-baked fashion faux pas shaped and decorated to portray these tacky yet cherished pieces of holiday wardrobe. The Ugly Sweater Cookie Kit creates 8-10 cookies and includes sugar cookie mix, red and green frosting mixes, heart, snowflake, and candy cane-shaped candies, red and green sprinkles, rainbow grande nonpareils, two piping bags and a plastic sweater cookie cutter.
Design delicious Stars of David when your family cozies up to the kitchen to make memories with In The Mix® Star of David Dipped Sugar Cookie Kit. Brand Castle makes it easy for families to bake together during this special holiday with directions that indicate steps for baking perfect cookies. This Kosher kit makes 8-10 cookies and includes sugar cookie mix, blue vanilla flavored melting wafers, brown chocolate flavored melting wafers, Star of David shaped cookie cutter and 2 piping bags.
"The holiday season is known for honoring rituals that celebrate family togetherness," said Jimmy Zeilinger, president of Brand Castle. "Our holiday-themed baking kits, including the Ninjabread Cookie Kit, Ugly Sweater Kit and Star of David Dipped Sugar Cookie Kit are the ideal activity to foster this closeness and will surely become another treasured tradition that generations will look forward to every year."
The Ninjabread Cookie Kit, Ugly Sweater Cookie Kit and Star of David Dipped Sugar Cookie Kit can be purchased at Target, Walmart and additional retailers nationwide. Product samples for reviews and additional photos are available; requests may be made to the press contact. For more information on Brand Castle, and its In The Mix® and Crafty Cooking Kits® product lines, please visit www.brandcastle.com.
About Brand Castle
Brand Castle is located in Bedford Heights, Ohio and was founded in 2005 by Jimmy Zeilinger and his wife Andrea. Brand Castle is the leader in interactive baking kits for consumers of all ages and offers an extensive selection of over 300 interactive baking kits sold under the brand names of Crafty Cooking Kits® and In The Mix® and other numerous licensed brands such as Disney, Hello Kitty® and Crayola. Brand Castle interactive baking kits can be purchased at well-known retailers like Bed Bath and Beyond, Christmas Tree Shops, Toys R Us, Cost Plus World Market, Target and Walmart. Brand Castle prides itself on providing consumers with high-quality, great tasting baking kits that create lasting memories shared between family and friends. For more information regarding Brand Castle's product line and opportunities, contact Jimmy Zeilinger at 216-292-7700 or e-mail him at jimmyz(at)brandcastle(dot)com.
Credit: Rebecca Suhy, Suhy Communications
See more Company News.