Correction to Baking Directions for Mickey Gingerbread Cookie Kit
November 22, 2019
We found an error in the directions for the Mickey Gingerbread Cookie Kit (UPC 44527-04750).  The first line of the KIDS step in the MIX section should read as follows:
Mix
Kids Combine cookie mix, honey, butter and water* in large mixing bowl. Mix until well-blended, 2 to 3 minutes, dough takes some time to come together.
You can see here that the "You Will Need" section does correctly state the ingredients: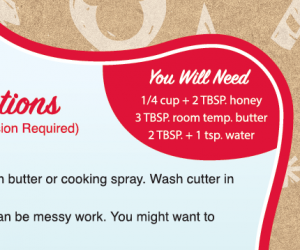 But the MIX section incorrectly mentions egg and omits other ingredients:

See more Company News.